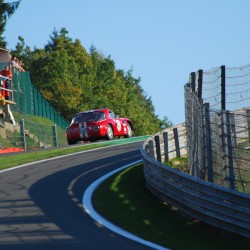 There is something special about Spa Francorchamps, the sheer scale of the place and the elevation changes make it like no other track I have ever raced on. However it is not a difficult track to learn, and  there is plenty of space to make corrections making it an ideal circuit.
It is often said you're not a true racer until you've raced at Spa.  I had always dismissed that, although it looks good,  it can't be that different to other circuits?  How wrong was I?  After 10 years of racing in the UK,  Spa just blew me away!
I just had to go back. I knew the kind of race I wanted to enter and the opportunities weren't available so I took the only option available and that was to organise it myself.
I am now proud to announce that together with Race and Rally Organisation and as part of the October "Racing Festival"   The "Sports, Saloon & GT One Hour Challenge". It promises to be a fantastic event with a great mix of cars on this fantastic circuit. I look forward to meeting you all on the grid.
The race meeting is spread out with qualifying on the Saturday and the race on Sunday. This gives plenty of time to experience Spa, and to sort any issues with the cars to make sure everyone gets to race. We will also have a number of fully qualified mechanics on hand to assit anyone with a mechanical issue.
Graham Walden