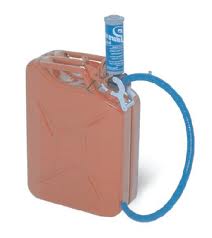 For cars that need to refuel during the race and are not equiped with a Dry Break Refueling system, We have agreed with thr RAC-Spa and their fire department the following two methods for refueling.
1) Sunoco Tuff Jugs, these have a valve that operns when the nosel is inserted in the cars filler and closes when removed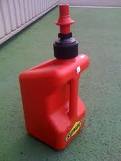 2) Polarn Pump. This is manually operated pump that attatches to a standard jerry can, the pump forces the fuel into the tank from a jerry can on the floor so no need to lift the heavy can. The pump is fitted with a manual release valve to stop the flow.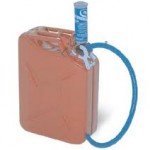 Both of these options used in the uk by club leve endurance races such as the Snetterton 360. They are available from motorsports supliers at around £40. If you have difficulty tracking one down or any quaestions pease contact us directly.
In addition the driver must be out of the car with the engine off. Anyone refueling the car must have a fire proof suit ( i.e. race suit) gloves and either a hemet or goggles and balaclava. The refueler can be the driver. There must also be a fire extinguisher  available.
Cars refueling must stop and refuel at the start of the F1 pit lane beteen garages 1 & 8, These cars may also change driver here after refueling.